First Games Are Over: Resetting My Euro 2012 Predictions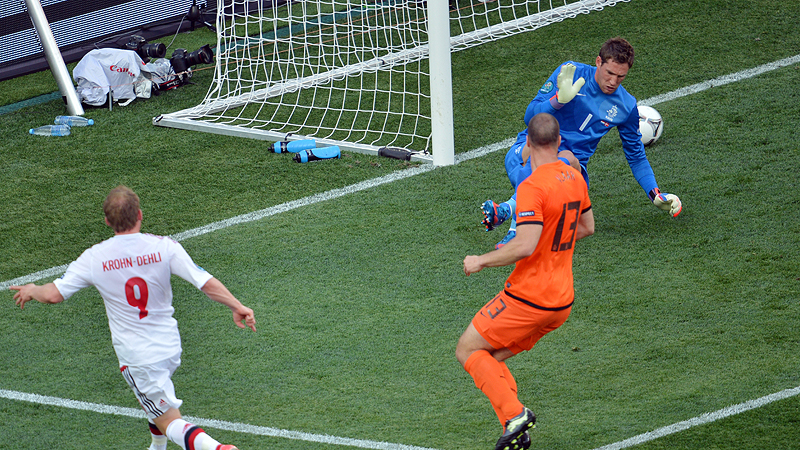 Sports news sites do this all the time.  They reset their predictions after the first game after gauging how strong a team is playing.  So, here are my reset predictions for group play after the first games.
Group A
Russia looked really strong against the Czech's, as did Poland in a tie with Greece. If Russian continues that strong play they will easily win this group. The Czech's looked too weak on defense and this may prove problematic against at least Poland or Greece. I think Poland has a better shot of getting a win over the Czech's and advancing over them and Greece.
Original picks: Russian, Poland
Modified picks: no change
Group B
The Danes shocked the Dutch and I think that will send the Netherlands packing, as it will be tough for them to get points from both the German side and Portugal.  Portugal hung with Germany and I think they will get at least one win to get enough points and top Denmark on goal differential to advance along with group leader, Germany. This knocks out mine, and I am sure a lot of others top pick to win the tournement (Netherlands).
Original picks: Germany, Netherlands
Modified picks: Germany, Portugal
Group C
Croatia looked really good in a victory over Ireland, while Spain and Italy played to a tie. Italy looked better than I thought they would, but that was because Spain looked lifeless. They had their usual spectacular plays but did not get much close to the net. Fernando Torres, once subbed in, missed a lot of opportunities for Spain. I think with the loss the Irish are out. I still see Spain winning the group, but the second spot comes down to Italy and Croatia. I think Croatia will upset Italy and steal that second spot. If they tie, Croatia still advances on goal differential thanks to Ireland.
Original picks: Spain, Ireland
Modified picks: Spain, Croatia
Group D

Neither England or France looked spectacular. I saw a vulnerable defense from both. Joe Hart seemed to get real lucky on a number a France's scoring chances.  I was not surprised by the draw. What I was surprised by was Ukraine rolling over Sweden led by the oldest striker in the tournement, Andriy Shevchenko. Host nations do get a boost from the home crowd, but this was something else. I think this helped England more than it helped Ukraine. I originally picked France and Sweden to advance, but I think France and England should pass through as I don't expect Ukraine to have the same luck with their other games.
Original picks: France, Sweden
Modified picks: France, England